The medical providers and staff of Delaware Valley Dermatology Group want to welcome you as a patient.
Please print and fill out these forms so we can expedite your first visit: And please, make sure
you have any needed referral before arriving for your appointment. It is your responsibility to know whether or not your particular plan requires a referral.
The New Patient Packet contains the following forms:
Patient Registration Form

Personal Information Form

Health Questionnaire

Notice of Privacy Practices

HIPAA Acknowlegement

Continuum of Care™ Aesthetic Needs Survey
Registration
For your convenience, we have made available here the forms you would otherwise be asked to fill out when you arrive for your appointment. You can just scroll up from here, or look for the "Forms" tab under the "New Patients" button on our home page. We think you'll find that you can speed through the registration process and get in to see your provider sooner if they are completed and ready when you arrive. It also helps us to stay on schedule, so we hope you'll take advantage of the opportunity. Also, please do not forget to bring all your insurance cards and your referral if required by your insurance carrier.
When a referral is required, you'll want to make sure you have contacted your Primary Care Physician (PCP) well in advance of your scheduled appointment. Up to 7 days notice may be required to allow time for them to issue a referral. Your PCP may request your appointment date in order to process the referral. You may also wish to contact your insurance carrier to confirm that a referral has been issued.
According to federal regulations intended to prevent insurance/identity fraud, we are now also required to ask you for some form of photo ID. We apologize for the additional inconvenience.
Should you have any questions about the attached forms, or our participation with your insurance carrier, please contact our office in advance of your appointment. Any member of our patient services staff will be delighted to help you. We look forward to meeting you.

LET'S KEEP IN TOUCH -- a few words about contact with this office.
We are located at 3411 Silverside Road, Concord Plaza, in the Webster Building, Suite 107.
--
mi
Talleyville, DE 19810
Address
3411 Silverside Rd, Webster Building, Suite 107
Wilmington, DE 19810-4812, US
What To Expect
Being well-prepared for your appointment will ensure that the doctor has all of the needed information to provide the best possible care for you. It will also help alleviate any unnecessary anxiety you may be feeling prior to your first appointment. Educate yourself on your symptoms by reviewing the content on this Web site. Also, take some time to review our staff page and familiarize yourself with our providers. We look forward to your first visit.

Please note; Patients under the age of 18 cannot be seen without the presence of an adult. This is both a practical and legal necessity. Thank you.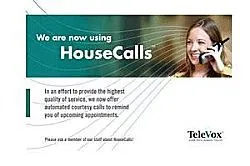 Expect automated telephone and/or text confirmations prior to your appointment .
You will also want to know that we have instituted automated confirmation calls to free us up to focus on the more critical areas of patient care. You can confirm your appointment immediately and we encourage you to do so. Accurate scheduling is critical to knowing where we can fit in that last minute urgent care appointment. It also enables us to cut down on extended wait times. So when you get that call, please follow the prompts. We appreciate your help and cooperation. There will be a $25.00 fee for same-day cancellations or missed appointments. Everybody deserves the best possible care and last minute cancelations or no-shows adversely affect everyone.

Expect that we will do everything in our power to ensure that you don't have to wait to be seen, but understand that waiting may be unavoidable.
No one likes to be kept waiting. Getting backed up stresses everyone -- patients and providers alike . Our area is underserved with dermatologists and demand for care is high. We do our very best, truly, but good care takes time and we never want a patient to feel rushed. To help minimize delays, please plan to arrive at, or even better, before your scheduled appointment time.
Expect the possibility of being asked to reschedule if you are more that fifteen minutes late, or don't have your required referral.
We ask you to please arrive a few minutes early for your appointment to ensure that all your paperwork is in order before you are seen. We realize that sometimes lateness is unavoidable. We would, however, appreciate the courtesy of a phone call to let us know that you will be running behind and to see if you can still be accommodated. We will do our best to fit you in. Nonetheless, if you will be more than fifteen minutes late for your appointment, we may have no choice but to ask you to re-schedule out of concern for the time-constraints of your fellow patients. Thanks for your understanding.

Please, please don't forget your referral!!
We don't want to have to turn you away. We have been forced to change our policy regarding needed referrals from your primary care provider. Beginning January 1, 2014, we can no longer extend courtesy to patients to who arrive without their referral. Patients for whom we do not have referrals will be called three days prior to their appointment date to allow time for it to be obtained. You must either have your paper referral with you, or it must be in the computerized Navinet system, which is a central referral clearinghouse accessed by your primary care provider. Scrambling for referrals at the last minute delays everyone, and with increasing numbers of patients holding health insurance policies that require referrals, we have no choice but to ask patients who do not have theirs to reschedule for another day.

Expect (if it is OK with you) the possible presence of a clinical student.
One thing you should know is, as a clinical professor of dermatology on the associated faculty at the University of Pennsylvania, Dr. Saruk takes very seriously his role as a teacher and mentor to young doctors.
We often have residents and medical students training with us in the office. While we prioritize teaching, we always want you to be comfortable. So, if you choose not to have a student in your exam room during your visit, don't be shy about telling us. That is your right.
Expect to be asked to put on a Gown at your first visit and at least once per year.
Get into a gown to beat skin cancer!!
At DVDG we are committed to your wellness. For this reason we have begun a new initiative to ensure that each of our patients has a complete skin exam at least once yearly - possibly even more often, if you have a history of skin cancer. The rates of skin cancer have increased dramatically over the past thirty years, even among teenagers. Today, it is estimated that one in every five Americans will develop some form of skin cancer in their lifetime. A complete skin exam is fast, costs nothing additional, and can save your life. So please, help us to help you. When you are offered a gown, please accept it. (Women can be assured that a female chaperone will be in the room at all times, and your privacy will be respected to the greatest extent possible.) Thank you.
Expect to have your after-hours phone calls returned on the next business day.
Staff is in the office and available to speak to you approximately nine hours each day, Monday through Friday. On weekends, holidays, and after hours -- unless you are an immediate post-op patient – we ask you to leave a message and your call will be returned on the next business day. Likewise, prescription orders or refills will be held until the next business day. If your need cannot wait, please visit a local urgent care center or emergency room. Post-operative patients with concerns relating to their surgical procedure should ask to speak with a provider at any time.

The office re-opens to receive your calls on Mondays at 7:30 am.