Laser Hair Removal Treatment In Wilmington, DE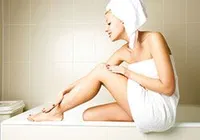 In the past couple years laser hair removal has quickly become one of the most popular aesthetic treatments in the United States. With laser hair removal, you can say goodbye to unwanted hair that leaves you with bumps, nicks, or burns, and say hello to skin that is smooth without the need to remove hair every day.
What is Laser Hair Removal?
Laser hair removal is a medical procedure that utilizes a laser to remove unwanted hair. During your treatment at our Wilmington dermatology office, a laser beam will pass through the skin to an individual hair follicle. The intense heat of the laser then damages the hair follicle, which inhibits future hair growth.
Although laser hair removal effectively slows hair growth, it does not always guarantee permanent hair removal. However, it will typically take several laser hair removal treatments to provide an extended hair-free period with periodic maintenance needed.
With laser hair removal you can eliminate unwanted hair in nearly any area. Common treatment locations include legs, armpits, upper lip, chin and the bikini line.
Some of the benefits of laser hair removal include:
Precision – dark, coarse hair can be selectively targeted without damaging surrounding skin.

Speed – each pulse of the laser takes only a fraction of a second and can treat multiple hairs at the same time.

Predictability – after an average of three to five sessions, approximately 90% of patients will experience permanent hair loss.
On average, 4-8 laser hair removal treatments are needed for maximum results, and are also performed once every 4-8 weeks depending on the area of the body being treated.
For more information on Laser Hair Removal in the Wilmington, DE area call Delaware Valley Dermatology Group, LLC at (302) 478-8532 today!